You're walking in extraordinary woods!
Yes, these trees are made from recycled cardboard and reclaimed vinyl donated by local businesses. But it's also a forest that grew in the rich soil of imagination. Led by a team of artist educators, and showcasing the work of nearly a thousand local children and youth, Artasia is all about seeing potential. This year, we wondered out loud…
What if everyone
had a place to live?
Every bird needs a nest. But for humans like us, having a home is also essential. The creative vision of young people reminds us that housing does not have to come at the cost of vital greenspace. What if we worked together to solve complex questions of our time?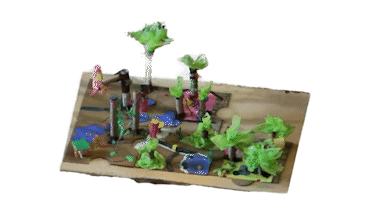 Witness the creations of 2,600 children & youth in digital form. 
Contribute to our hexagon village! Use reclaimed materials to co-create a neighbourhood for all.
Use your imagination to write, draw, sculpt and assemble a forest that offers everyone a place to call home.
We are delighted to work with amazing partners across three regions. Since we began in 1999, we have brought arts experiences to 60,000 children and youth. It's amazing what happens when you work together!
Artasia is made possible by the generous support of Governments, Foundations, Businesses, and Donors. We are grateful to all these contributors who are committed to making the arts accessible for everyone in our community.
Chad Collins          Matthew Greene          Lisa Hefner          Filomena Tassi
Thanks to these local businesses for contributing repurposed art materials to this project: