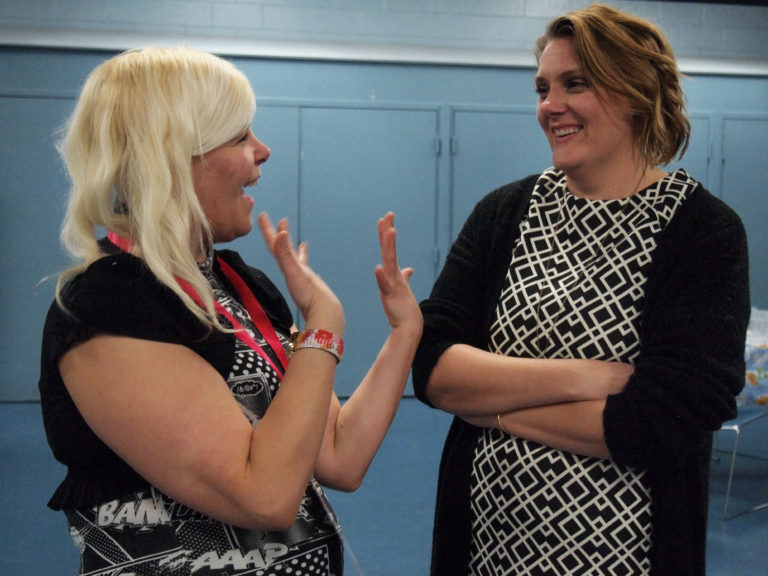 Through his own experience as a ballet dancer, Vitek Wincza has watched the professional artistic scene isolate itself from the emerging scene. In the past in Canada, major arts funders supported old and established artists, as well as new and prestigious venues. They ignored the new generation and emerging artists. Cultivating arts education was neglected. The new audiences never showed up. Touring suffered: ask any ballet company. "You're on a suicide mission," said Wincza speaking with LivingArts Hamilton, "because there's no audience." Now founder and executive director of Culture for Kids in the Arts and artistic director of the Hamilton Conservatory for the Arts, Wincza's new pursuit is to invigorate the arts on a basic level.
As a music school with fee-paying students, most of what the conservatory does today is unchanged from its heritage. In order to move in a new direction, music lessons alone were not enough.
Shortly after opening, the Hamilton Conservatory partnered with Culture for Kids with broader aims in mind. First, to provide high-quality arts experiences to children and youth, regardless of their financial circumstances, and second, to increase the visibility of arts education in the community. This resulted in a variety of artistic programming with sound learning objectives. The central program, the After School Arts Program, provides for children ages four to 12 during the school year. ArtWorks, a skills training program, targets recent graduates and emerging artists in high school and post-secondary school; and Arts for All is a series of professional development sessions for established artists and community agency workers. Later, the organization hired Renee Jackson, PhD candidate in the Department of Education at Concordia University, to support the Artasia summer program. This layered approach complements the many stages and twists in an artist's life.
This past January, Arts for All invited community workers from YMCA Hamilton | Burlington | Brantford and Today's Family, plus arts instructors from the Hamilton Conservatory. Lead by Larissa Benedetti, a teacher for the Halton District School Board, the evening was remarkably insightful, something you recollect as a meaningful experience.
Benedetti presented activities that were exploratory in nature. The first invited participants to write their name on a card (using any of the tools provided). Some drew elaborate shapes and shades, which were clear from across the room; others used spare lines and contrasting colours to stand out. Next, the group explored bins filled with activities adjusted to varying learning styles, then were asked to jot down any thoughts or questions about the contents. After this warm-up, the name cards were used as the inspiration for the next activity. Participants used their bodies' movement to sketch their name following what was written on their name card earlier. "The idea or challenge is to clearly introduce oneself to an audience below the floor [an imaginary glass floor]. The expected outcome is to feel the beginning principle of movement as a form of communication or non-verbal language," says Benedetti.
And the language constriction compels you to be more creative.
Afterwards, the group agreed that collectively, the activities presented integrate all arts disciplines, and welcomes members to participate in their own way. That said, there are even benefits in addition to the feel-good ones: "Through the different approaches, a common language and understanding is possible – that art itself builds and expands our cognition, creative, and critical thinking skills, as well as our ability to collaborate."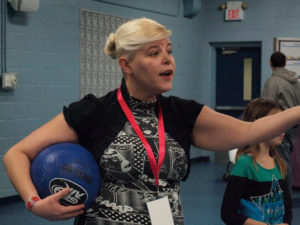 Over at Huntington Recreation Centre, Rachel More introduces mixed arts with the games she plays in her classroom. She's a drama teacher with Culture for Kids in the Arts. At a 4 o'clock session, More begins with the name game, a storytelling game. "Name your favourite thing to do for fun," she asks. "Painting, skating," one shouts. "Hanging out with my baby brother," another interrupts. A lively harmony spreads through the classroom. In the next game, Incredible Machine, More grabs a dodgeball, and tells the group to form a circle with plenty of elbow room. Doing her best impression of Alpha 5 from Mighty Morphin Power Rangers, she passes the ball. The next student conceives their own robot complete with sound effects, then passes again. With storytelling and acting covered in More's class, students also receive dance and music lessons from other instructors.
At a time when the urge for creativity should be introduced, technology addiction is taking the attention of youth. To aggravate the problem, access to arts is lacking at 90 per cent of Hamilton recreation centres. Culture for Kids is doing its part by involving arts in the every day lives of children, and educating its frontend staff. Sooner or later, the 90/10 will become 50/50, and a new generation of theatre-goers and gallery attendees will appear. Consider your first experience of live arts. Was it educational? Interactive? What disciplines were involved? How old were you? Your answers prove the association with childhood.