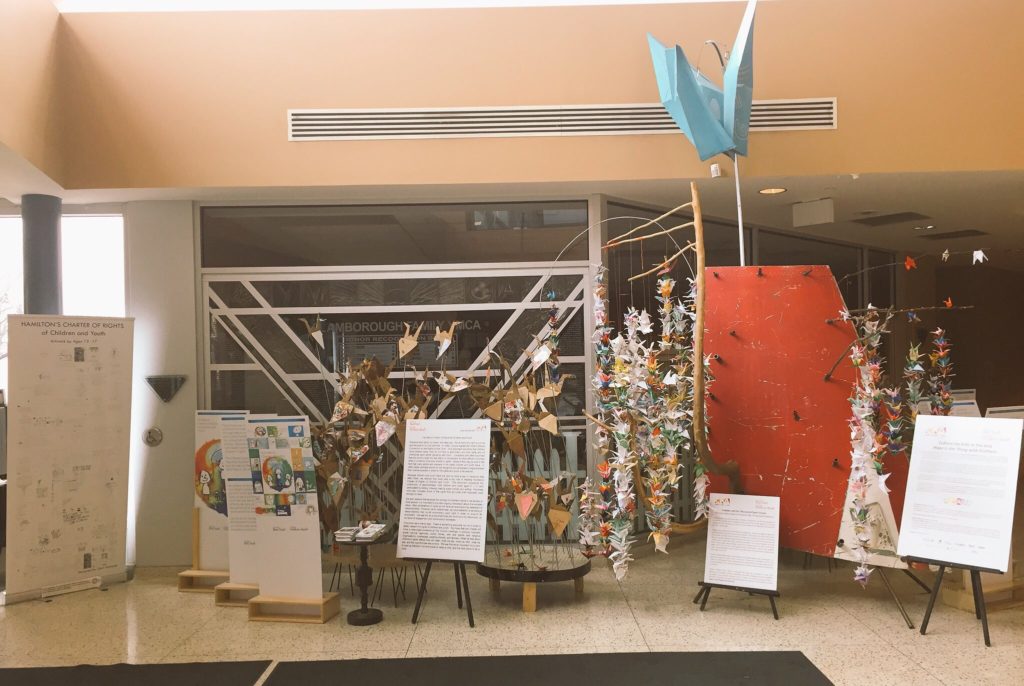 After more than a year of travelling the greater Hamilton area, the cranes of Artasia 2015's Tour: Hope is a Thing with Feathers made their final perch at the Flamborough YMCA in January 2017. 
The exhibit was a collaborative work shaped by Artist Dave Hind who uses recycled, salvaged and found materials to create, Artist Educator Donna Akrey and CKA's Artasia team, who's goal was to help hope "perch in the soul" of all patrons who took in the display. 
The artwork is inspired by the story of Sadako and the thousand paper cranes. Two-year-old Sadako Sasaki survived the Hiroshima atomic bomb drop seemingly unscathed, only to develop leukemia over the next 10 years from the bomb's radiation. Ancient Japanese legend holds that anyone who folds a thousand paper cranes will be granted a wish. Sadako, with her wish for peace, began folding paper cranes saying, "I will write peace on your wings, and you will fly all over the world." She continued faithfully on this mission until the disease claimed her life at the age of 12. 
Sadako's schoolmates continued her legacy after her passing as did Hamilton children with the Artasia tour. Each folded bird contains a written wish from a Hamilton child for their community and future, amidst a plane wing, representative of the metal and destruction of Hiroshima, from which sprout tree branches with cranes perched on them, symbolic of nature and growth.  The children's wishes elicit hope and fervour for making Hamilton the best place to raise a child. The exhibit was displayed at Hamilton City Hall, Stoney Creek Municipal Centre, Morgan Firestone Recreation Centre, HWDSB Board of Education Centre, ArcelorMittal Dofasco Recreation Centre, McMaster Children's Hospital, Hamilton Public Library's Central Branch, Ron Joyce Children's Health Centre, Les Chater YMCA, Huntington Park Recreation Centre, Westmount Recreation Centre and Flamborough YMCA. The tour was largely managed by Cheryl Velenosi of the Hamilton Best Start Network and funded by Affiliated Services for Children and Youth. 
In collaboration with the Hamilton Best Start Network, Karyn Callaghan from Artists in the Centre and CKA engaged thousands of students in discussion about rights and responsibilities to review the 15-year-old Hamilton-Wentworth Charter of Rights of Children and Youth in the summer of 2015.
"This was an extremely successful engagement and consultation," said CKA Program Manager Victoria Long-Wincza. "When we add art as a vehicle to gather input from children they are engaged and able to express themselves."
From asking 'what do all children need?' emerged the new Hamilton Charter of Rights of Children and Youth. A short-list of rights was created after discovering patterns in responses from Hamilton's children and further shaped by hundreds more children who voted on a final list at Supercrawl and Telling Tales festivals. 
Hope is a Thing with Feathers is part of a three-year project focused on children's rights that will culminate this summer with the celebration of Canada's 150th birthday. CKA will partner with Suzie Miller and the Pen Pal Project to help give voice to the Hamilton area's indigenous youth and further declare the Children's Charter to 150 notable Canadians and exhibit an interactive projection mapped charter with media artist Tyler Tekatch in September 2017.