Artasia 2018 Glocal #HereWeArt
#HereWeArt is an augmented reality art installation created by children from many neighborhoods as part of CKA's 2018 Artasia program.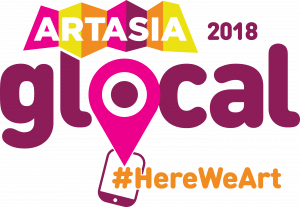 Artasia 2018 marks the start of "glocal", a 3-year CKA program vision aiming to connect children from neighbourhoods around the world through art and technology. Beginning in the Hamilton region, Artasia glocal will widen its radius by 2020 to engage voices of children in indigenous and international communities. With an emphasis on digital tools, Artasia glocal amplifies access to arts, increases cultural impact, and connects children through concurrent arts programming across multiple sites. In 2018, the Artasia #HereWeArt glocal pilot is a creative platform for children from over 20 sites in Hamilton, Halton, Brant, and Six Nations communities to build a sense of belonging and place, to share their stories, and to break out of their silos to connect with peers in their region. Led by a team of Artist Apprentices, children engage in ideation and creation, using tactile materials (especially found objects) to form collage works, but also collaborate with digital tools to build a virtual "story box": a virtual 3D interpretation of their neighbourhood, augmented according to their own vision.
Through the #HereWeArt app, children's artwork appears in augmented reality on York Boulevard, in Hamilton. Lamp posts connect to a neighbourhood creating a microcosm of kids' voices. 3D Storyboxes reveal kids' imagination and link to an online exhibit.
You may directly download the #HereWeArt App (on Android).


Programming integrates devices and software, including tablets and an augmented reality app (developed at McMaster University by a research team led by Dr. David Harris Smith). These tools encourage children to comfortably and constructively navigate both tactile and virtual spaces.
The results will be exhibited as part of an augmented reality art exhibition at Hamilton's annual Supercrawl festival September 15 – 16, 2018.
Thanks to everyone who worked hard to make Artasia possible in 2018
Artistic and Executive Director – Vitek Wincza
Program Manager – Victoria Long
Artist Educator Consultant – Dr. Renee Jackson
Artist Educator and Trainer – Harold Sikkema
Artasia Kinders Art Educator – Vanessa Crosbie Ramsay
Technical Support – Rob Stirling
Apprentice Coordinator – Tiffany Bui
Apprentices: Andrea Abeysekara, Sukaina Imam, Jessica Logan, Karen Plasencia Guillen, Elisabetta Paiano, Shannon Ross, Lindsey Rynders, Ryan Watson, Sarah Williams-Habibi
Mentors: Grace Brown, Francine Bulaclac, Alissa Guzman Chavez, Liam Kwok Natalie Labrosse, Joseph Mirkhai
McMaster Development Team: Daven Bigelow, Dr. David Harris Smith