[et_pb_section admin_label="section"]
[et_pb_row admin_label="row"]
[et_pb_column type="4_4″]
[et_pb_text admin_label="Text"]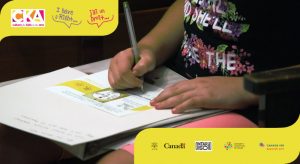 Culture for Kids in the Arts in partnership with the Pen Pal Project and the City of Hamilton presents:
ARTASIA 2017: I Have a Right
Saturday, September 9, 2017, 12:00 – 6:00pm 
Sunday, September 10, 2017, 12:00 – 6:00pm  
Come experience Artasia Exhibits and Activities at the 
Supercrawl
 Family Zone: 
York Boulevard & James North, Hamilton, ON
Kids can see 150 years ahead. O Canada, can you hear the stories of tomorrow?
Artasia 2017 is a call to action. Young citizens call on you to respond to the
Hamilton Charter of Rights of Children and Youth
, to recognize kids' voices, and to keep Canada in the rights conversation.
Come see children's voices light up the #IHaveARight speech bubble! Respond to enlightening postcards written by children to Notable Canadians like children's champion Raffi Cavoukian and musician George Petit from Alexisonfire.   
CKA invites you to join in the conversation about children's rights as we continue to celebrate Canada's 150th year. Add your voice here! Follow us on instagram, twitter and be sure to tag your posts, photos and video with#IHaveARight and #Canada150 all weekend long.
Artasia is a large-scale community arts project offered by Culture for Kids in the Arts (CKA), bringing high-quality arts education to children at multiple sites throughout the greater Hamilton area.
Culture for Kids in the Arts (CKA)
 is a charitable organization in the Hamilton region dedicated to the creation and delivery of quality arts and culture experiences for children and youth. Working hand in hand with community youth service agencies as satellite learning centres, CKA has created and delivered arts and culture interactive programs to over fifty thousand youth in the region.
Thank you to our generous supporters!




[/et_pb_text]
[/et_pb_column]
[/et_pb_row]
[/et_pb_section]